No success or achievement in material terms is worthwhile, unless it serves the need or interest of its people and is achieved by fair and honest means.
Imbibing the artistic quality of his family members, from the very childhood, SRI.VINOD KOVOOR had a penchant for acting. His character 'MOIDU' in the most popular and successful comedy serial 'MARIMAYAM' broadcasted by 'MAZHAVIL MANORAMA' channel has carved a niche for him, as a successful and popular comedian in Malayalam TV shows and film industry. His usage of KOZHIKODAN COLLOQUIAL slang and style in the serial comedy program is unique. The comedy show has won social attention for the portrayal of the rampant corruption in the society, especially in Government Institutions. The success of this comedy show helped him to earn a lot of opportunities and he became a highly sought after comedy star in various shows and characters in the film in the next few years.
SRI.VINOD KOVOOR's effort paid off, when he first won the best child artist award for the drama 'CHANDROLTSAVAM' in the ALL KERALA KAMPIRI DRAMA FESTIVAL. He was a recipient for the best actor in INTERNATIONAL SHORT FILM FESTIVAL during the year 2013. He also received the best actor award from the MALABAR SHORT FILM FESTIVAL during the year 2013. He also bagged many prizes for MIMICRY, MONO ACT, DRAMA, DANCE & MUSIC. Received recognition in school youth festivals. B'ZONE, INTER'ZONES festivals in university level and also gained accolades for participating in AIR PROGRAMS.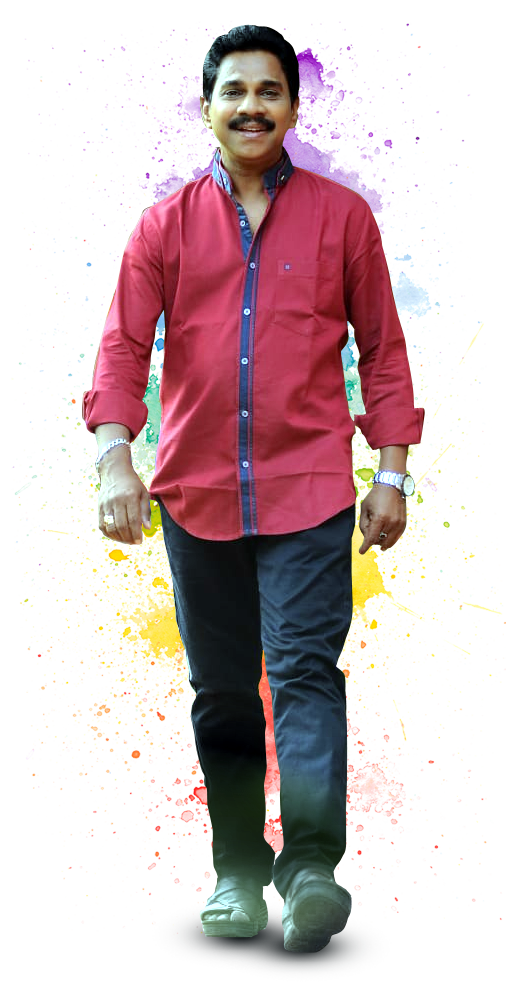 SRI.VINOD KOVOOR has become a recognized actor in the Malayalam film industry. He has created amazing style of his own in each and every role he acted. This style has been taken right in to the heart of each Malayalees throughout the world. He has acted in numerous Malayalam films like VALLATHA PAHAYANA, FACE TO FACE, JOSETTANTE HERO, AADAMINTE MAKAN ABU, PUTHIYA THEERANGAL, SIM and USTHAD HOTEL etc. In all these films he had acted amazingly for which he was recognized and started getting enough offers to prove his mettle in the fourth coming pictures.
He began his career as an hotel receptionist in Calicut, Malappuram and Wayanad. He had a brief stint as a parallel college teacher. He proved his skill in imparting training in personality development, communication skill, motivation, counseling in various educational institution all over Kerala.
Even from the childhood, he had a dream of becoming a stage artist. He made his stage debut in the popular drama 'PATTABAKKI', later he performed in PADAM-2 BARATHAM, CHANDROLTSAVAM, KARINIZHAL and SHAKUNI. He proved his versatility roles such as MIMICRY ARTIST and MONO ACT.
He proved his acting talent by bagging the best actor award for four years consecutively in KERALOLTSAVAM DRAMA COMPETITION. He acted in 'CALICUT SPOTLINE TROUP', his two hours comedy show as CALICUT SUPER JOKES and TOM AND JERRY (founded by him) were performed in various stages throughout Kerala and acclaimed wide recognition from the audience.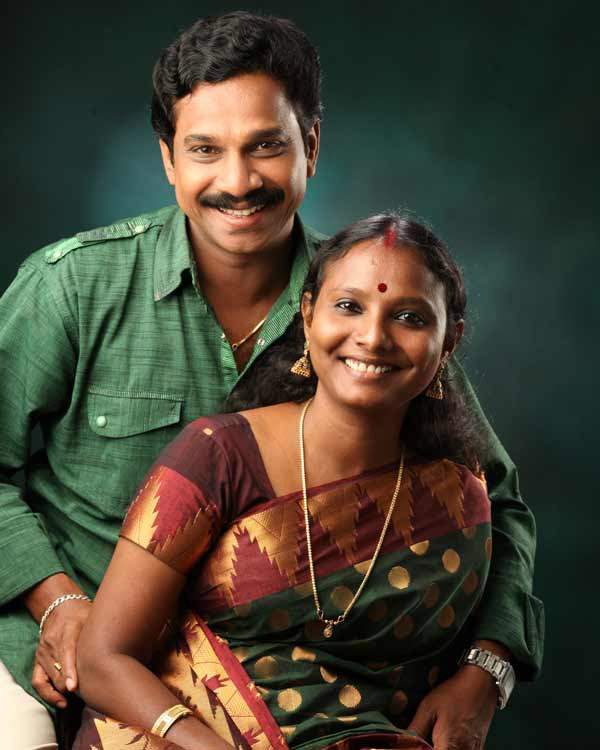 FAMILY
His family members are renowned for their skill in various fields like music, dance and acting. They always support him to achieve all that is possible in this world, proving his skill and maintaining his reputation as an actor. The amount of encouragement of his fans and through the grace of God SRI.VINOD KOVOOR will one day reach the zenith of the film industry.
SRI.VINOD KOVOOR is the disciple of late SRI.KUNJUNNI MASTER. He is always blessed by the latter in all his day-to-day activities.
Father : Late SRI.UNNI
Mother : Late SMT.AMMALU
Wife : DEVU
Siblings : MR.SHIVADAS and MR.MANOJ
SHOWS
An ambitious person, SRI.VINOD KOVOOR started his show as a singer in DOOR-DHARSHAN DD4. He portrayed the character 'SHANIYAN' in the famous serial 'KAYAMKULAM KOCHUNNI', which was broadcasted by SURYA TV. The same channel had broadcasted many of his shows like MINNAL-KESARI, RASIKARAJA NO.1 and VISMAYA THAARAM. Reality shows 'SUPER TALENT and SUPER DEUP-2' was also broadcasted by AMRUTHA TV. A comedy show 'NARMAM' was also show in DOORDHARSHAN. He was also a guest artist in the program 'PONPULARI'. In the ASIANET there was a comedy show known as DAILY EXPRESS. KAIRALI TV broadcasted a comedy skit 'COMEDIYUM MIMICSUM PINNE NJANUM'. Comedy serial 'MARIMAYAM' was broadcasted by MAZHAVIL MANORAMA CHANNEL. SRI. VINOD KOVOOR was the main anchor for the program KALIKKALAM. He had anchored in many local channels for various programs. His exemplary performances were noted and given the due recognition by the people of Kerala especially Malayalees all-over the world.
WORKS
He had formed a 'GRAMEENAM GROUP', the leader for the fork song which was rendered in many stages all-over Kerala. Work shops for 'NADAN PATTU' were conducted in many institutions Kerala. Audio CD on 'GRAMEENA FOLK SONGS' was released by him. He had trained many school children in mono acting and later he published a book on mono act 'EKA ABHINAYA SAMAHARAM' for the students who could learn from it and become big artists in future and CD's in Mono-Act were also released for the betterment of the children.
Home pictures were acted by SRI. VINOD KOVOOR. Some of his latest home films were ENTE PULLIPAI POLORU PENNU, NOORJAHAN, PRAVAASI LOKAM and PAAVAM PARALUM MAANATHE KANNANUM.
The home film 'ENTE PULLIPPAI POLORU PENNU' was directed by SRI.FAIZAL KORANGAD and the character 'ABU' was portrayed by SRI.VINOD KOVOOR, who in turn was the recipient for the best actor award. He was the founder of the comedy skit 'TOM AND JERRY'. His work includes as an anchor for family get-together in and around Kozhikode residents association.